Sanju releases today and if you are one of those fans who have managed to book a seat for the film, expect a Bollywood journey like none other! Director Rajkumar Hirani's much anticipated Biopic Sanju relives the life of Sanjay Dutt and is played by none other than Ranbir Kapoor. But apart from Ranbir Kapoor's impressive portrayal of Sanjay Dutt leaving half the industry confused on who's who... here are some interesting facts that will make you watch the film all over again.
1. Sanju is NOT a biopic?!
Although Sanju talks about the different lives of actor Sanjay Dutt, the film is more than a biopic. Apart from knowing the actor, we are taken through the ages and get to experience the different cultures and situations that he faced while growing up. An interesting story to fame comes to life. Talking about the film, this is what director Rajkumar Hirani had to say -
"People already know about the life of Sanjay Dutt. What I found most fascinating was Sanjay Dutt's equation with his father in that household. This is something people don't know much about. We have not glorified him in anyway. We have simply gone out and said everything as it is, and then it's up to you to judge him."
2. A rare father-son relationship
Most films today focus on the unconditional love of a mother and the ideal togetherness of families. Director Rajkumar Hirani has unearthed a lesser known story for all of us with a perspective unique to its time. Sanjay Dutt's complicated yet binding relationship with his father is key to a film that follows a perspective ahead of its time. Sanjay Dutt might have had his fair share of romance through the years, but breaking the cliché, romance is not a concern in the film.
Sanjay Dutt's father Sunil Dutt is played by actor Paresh Rawal in the film.
3. Manisha Koirala (Sanju's mother) carries the problems faced by Nargis Dutt into the real world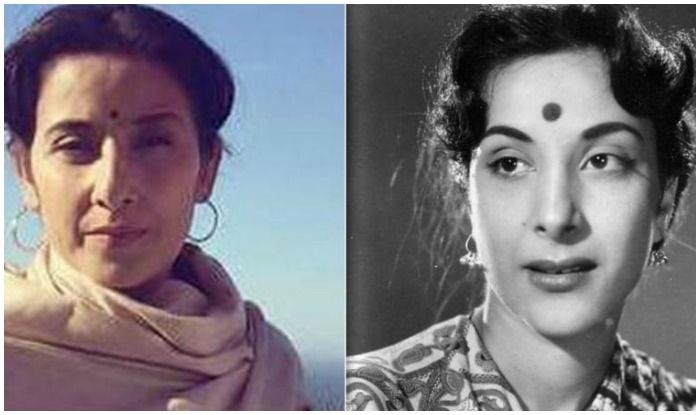 Manisha Koirala has mirrored the image of legendary actress Nargis Dutt and has received immense praise for the same, sending millions into nostalgia. But did you know that Manisha Koirala also went through a phase of cancer just like Nargis Dutt that took her life. Manisha Koirala plays the role of Sanjay Dutt's mother in the film and admits that she was in two minds about her role.
"Playing Nargisji is a huge responsibility and a compliment at the same time. I was actually more apprehensive to play the character of Nargis Dutt... as I didn't want to relive those memories... I also had no idea whether I will be able to relive that or not." – said veteran actress Manisha Koirala
4. Ranbir Kapoor's special screening with the real Sanju
Shortly before the release of the film, actor Ranbir Kapoor had invited Sanjay Dutt for a special screening of Sanju at the yrf studio, Mumbai. Ranbir Kapoor was determined that the real Sanju watch the film before it was released in theatres. Sanjay Dutt's wife Maanayata had the special privilege of sitting and watching the story of Sanju with none other than her Sanju.
5. Anushka Sharma's unique role in the film –
Actress Anushka Sharma plays the role of a biographer who comes to India from London. Sanju approaches her and wants her to write a book on him, which does not favour Sanju. Apart from playing a biographer, Anushka Sharma's unique double-role in the film brings the character sketch of the director and co-writer Abhijat Joshi to life.
"Anushka Sharma's character is derived from myself and Abhijat. We were skeptical at first whether we should do this character or not. We went ahead with it. Anushka Sharma is us, but not as a filmmaker... but a biographer." - Added Director Rajkumar Hirani.
6. Sanjay Dutt's special appearance in Sanju!
Director Rajkumar Hirani has successfully kept a major part of the film a secret so far. But it is now known to us that the star himself makes a cameo appearance in his own biopic! Now that's something really special!